Müller Kleinkunst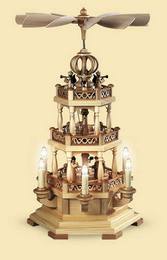 Müller Kleinkunst is located in Seiffen, Germany. Seiffen is one of Germany's famous Christmas cities. The Müller Kleinkunst company dates back to 1899 when Oswald Müller founded his company by producing a variety of toys, toy furniture and miniatures. In 1943 Paul Müller, Oswald's son took lead of the company and continued the tradition of creating the famed Müller natural wooden designed figures that have now become a popular collector's item for people from all over the world.
During the late 1950s, Paul Müller introduced his Christmas Pyramids and by the time that Gunter Muller took over the company in 1973, the Muller Christmas Pyramids were highly popular. Gunter developed his business in new markets outside of the German borders and soon the entire world would know the quality and beauty of a Müller creation. Since 2001 Gunter's son, Ringo Müller, has managed the company business and still maintains the century old traditions that were developed by his great-grandfather.
The Mueller Kleinkunst company today offers its customers a wide range of beautiful wooden creations including incense smokers, nutcrackers, Schwibbogen or candle arches and the world renowned Mueller Christmas Pyramids. The design elements that Muller creates and implements in each of the beautiful designs has been a leading factor in the Müller line of products being as popular as they are. Collectors from around the world are awe inspired by the pieces that come from Muller. Müller Christmas pyramids combine exotic wood with local wood from the Seiffen region. Both the Christmas pyramids and the Schwibbogen/Candle Arches are works of art that are inspired by centuries of tradition and invoke awe and admiration from all who see them. Having a Müller Christmas pyramid or candle arch is a wonderful way to accent your home.