Nutcracker Production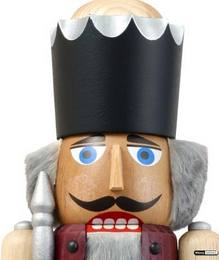 How Nutcrackers are Produced
The production of true, authentic German nutcrackers is a rather long one, but the result is well worth the time. The beautiful nutcrackers that are so highly popular are displayed in many homes throughout the world. To own a nutcracker is to own a piece of history and tradition that dates back for centuries. In order to produce a nutcracker, there are several steps that are taken. Steinbach nutcrackers are still as authentic and traditionally manufactured as they were nearly two centuries ago. The actual process of creation just one can sometimes involve over 100 different procedures, but each Steinbach nutcracker is made using all the steps necessary to ensure that the end creation is a beautiful nutcracker that brings with it all the years of tradition that the Steinbach collection holds dear.
The first step in the creation of nutcrackers is cutting the wood into specific sizes and shapes that will be used to create the piece. The wood pieces are then hand turned to produce a clean cut and smooth piece. Each piece is then run through a lathe, polished and shaped and primed to be ready for the carving procedure. The carving is done, as it has always been, by hand. Wood carvers who are highly skilled carve each nutcracker into the shapes and sizes that we see. Once the carver is satisfied with his creation the nutcracker is hand painted. Each color on the piece must dry before the next color is applied. Over the centuries, Steinbach nutcracker creators have experimented with different colors and color schemes to bring to life the beautiful nutcrackers that the world loves.
Although producing nutcrackers may not seem like a glamorous job and can sometimes be a very long process, the end result is a collection of beautiful pieces, in all shapes and sizes, that gracefully accent the décor of millions of homes.