Music Boxes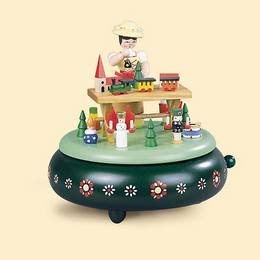 Wooden Music Boxes were invented during the 18th century when in 1796, Antoine Favre-Salomon, a Swiss clockmaker, designed a pocket watch that played a melody. Music boxes have also been referred to throughout the years as "music watches" and "music clocks". The very first music boxes were carved by hand and although they were very beautiful, they gave off a less than perfect musical quality. The number of tones in the earlier music boxes was very limited compared to the boxes of today. The first music boxes were considered children's' toys. Music boxes of today are very decorative and have mechanical instruments inside that allow them to play melodies with several sounds. They are still handcrafted and elegant pieces that offer the owner beauty of sight as well as beauty of sound.
A Wooden Erzgebirge music box is always handmade. They very often depict scenes such as the Christmas story, Christmas carolers, the nativity scene or even angels and Santa Claus. Although Christmas is a very popular holiday and many music boxes are made for this popular time, the workshops in Erzgebirge are also overflowing with music boxes that are wonderful for many occasions such as wedding anniversaries and birthdays.
Music boxes from the Erzgebirge region in Germany are a very popular collector's item. Among the most famed manufacturers are KWO Olbernhau, Mueller Kleinkunst, Richard Glaesser, the ever popular Christian Ulbricht and Steinbach. These manufacturers together produce around 200 to 300 different and unique designs. Prices can range from as low as $100 to as high as $700 depending on the design of the music box, as well as the size and the number of tones in the melody. Erzgebirge music boxes have been a popular gift item for over a century. A music box from the German Erzgebirge is a very beautiful and elegant way to show someone that you care.