The Black Forest Region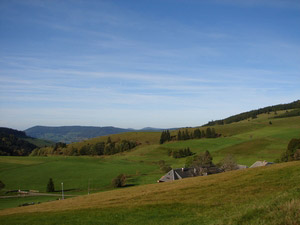 The Black Forest is a region in Germany that is famed for its production and manufacturing of beautiful, authentic German cuckoo clocks. It lies in the southwest area of Germany and is located on a mountain range. The Black Forest is actually located in a triangular area that borders Germany, France and Switzerland and it extends along the Rhine River. The area of the Black Forest is approximately 100 miles long and 40 miles wide and its highest mountain top is the Feldberg Mountain which reaches up at 4900 feet above sea level. The Romans were well acquainted with the Black Forest area although they never actually settled there. Major settlements in the Black Forest history were begun by the Alemanni.
Today, the Black Forest remains one of the most popular tourist areas in all of Germany. Many people head to the area yearly to visit the manufacturers of the world famous Black Forest cuckoo clocks, however, the Black Forest has beautiful scenery to offer as well. Lakes, such as the Titsee, Schluchsee and Feldsee offer a beautiful and scenic site. The southern region of the Black Forest is the warmest area in Europe from the Alps to the North Sea. This area is also prime for wine growers and during the summer months, the Black Forest is a haven for hiking and Nordic walking. During the winter months, the area offers a wonderful retreat for those who enjoy skiing.
The Black Forest is not densely populated and offers only a few larger cities. Other famous products to come out of the Black Forest include the Black Forest Gateau, Black Forest Ham and Kirsch Schnapps, as well as the ever popular Black Forest cuckoo clocks. German Clock Road is a very intriguing site that runs through many of the quaint villages and cities of the Black Forest. Found along the German Clock Road are many clock companies and museums where you can view the beautiful clock creations from today, as well as those throughout history. Although there are other products that the Black Forest is home to, the clock industry is a very important industry in this area. For centuries the Black Forest has been world renowned for its manufacturing of cuckoo and other designs of clocks. With the years of tradition that are evident in each cuckoo clock from the Black Forest region, it is no surprise that the area is a haven for clock collectors and looks to be a popular tourist spot for many years to come.