Christmas Pyramids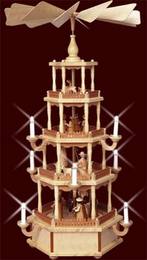 German Erzgebirge Christmas pyramids have become world renowned for their beauty and the tradition that each entails. They are famed as one of the most admired and elegant creations to be manufactured in the Erzgebirge region. The warm light and beautiful movements create a festive atmosphere that is unsurpassed by other collectibles. The tiers and impeller turn slowly as they perform an awe inspiring show of light and shadow.
Christmas pyramids are made with centuries of tradition in mind. Dating back as early as the 16th century, these pyramids are thought to have been a precursor to the modern Christmas tree in European countries.
During the 18th century, as Erzgebirge miners began to search for ways to provide for their families, many began to experiment with designs and wooden creations. The Christmas pyramid during this time was simply called a light rack. The earlier versions held no moving parts but as the miners added to their creations to produce more interesting and beautiful pieces, the movements were eventually added giving an entire new look and feel to the beautiful Erzgebirge Christmas pyramids. By using a wooden rod in the middle of the original wooden sticks and fastening a dish to the rod, the dish could turn once the impeller was implemented due to the rising heat from the candles. Once the movement was created, the miners experimented with placing hand carved wooden figurines on the dishes to create the beautiful and elegant Christmas pyramids that today has collectors from all over the world.
Erzgebirge Christmas pyramids are available in many styles and designs. Many of the more popular versions feature religious scenes while others feature scenes from everyday life or from nature. The pyramids range in size from a mere 10 inches tall up to 60 inches and the number of tiers depends on the overall size. Of course the price is influenced by the size. The parts and figures are predominantly made by hand which is reflected in their beauty and quality. Handmade crafts are practically a way of life in the Erzgebirge region.
Perhaps the most famous workshops that manufacture these beautiful Christmas pyramids are Mueller Kleinkunst, KWO Olbernhau and Richard Glaesser. These manufacturers create beautiful and high quality pieces that are renowned the world over. Handmade items in the Erzgebirge region are famed for their high quality and craftsmanship. Collectors are awed by every single piece that comes from this region.
For centuries, the Erzgebirge region has been a popular setting for the most elegant and beautiful handcrafted creations. The Christmas pyramid is definitely no exception. With one tier or up to six tiers, these beautiful pieces inspire awe from children and adults alike and keep collectors anticipating new collections.