Nutcrackers

Nutcrackers have been in existence for centuries. Their history goes back more than 2000 years. The very first nutcracker, long before the German Erzgebirge Nutcrackers that are so popular today, was crafted by the Greek Aristotle who was seeking to invent a device to aid in the cracking of nut shells. That first nutcracker simply had two levers and did, in fact, aid in opening the shells of nuts. Those first nut cracking tools became very popular soon after they were invented. For years people had searched for ways of opening the hard shells of nuts easily. Scientists have discovered many bronze nutcrackers in ancient burial places which helped to prove their early existence. Scientists also believe that nutcrackers were viewed as very valuable since they were laid in the graves.
After the first discovery of nutcrackers, not much else is known from the ancient Greek invention until the 16th century. During this time the first nutcrackers were developed to serve not only as aids in the actual cracking of nuts, but also as decorative pieces. King Henry VIII, on his search for a gift for his wife Anna Boleyn, decided that a decorative nutcracker would be the perfect gift. Leonardo Da Vinci is also tied to nutcrackers as he invented a machine to help craft these and other wooden figurines.
Skipping ahead to the 18th century, nutcrackers became very popular throughout Europe. The Bavarians in Oberammergau carved wooden nutcrackers and in South Tyrol, which is a German speaking region in northern Italy, woodcrafters carved decorative nutcrackers that were designed to bring humor with their whimsical looks and expressions. These two regions today are primarily known for their production of nativity scene hand carvings and not nutcrackers. The nutcracker production center of Germany today is in Erzgebirge.
Erzgebirge lies in Eastern Germany very close to the border of the Czech Republic. Due to the large deposits of silver and tin during the 16th to the 18th centuries, the Erzgebirge region was a very wealthy area. During the late 18th and early 19th century, however, the mines dried out, turning the Erzgebirge miners into workers who could not support their families. Needing to seek alternative income sources, many turned to wood crafting. For nearly two centuries wood carving had been a hobby of many miners and when forced to provide for their families, these miners turned their hobby into a very lucrative business. The Erzgebirge nutcrackers that we see today still reflect those early years. The traditional methods of creating them are still intact and all the nutcrackers from the Erzgebirge region rely on those early miners and their centuries old traditions.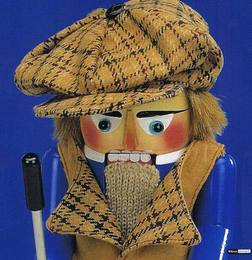 The traditional Erzgebirge nutcracker from Erzgebirge region in Germany has a grim look and bares his teeth as if he is angry. The traditional look had the nutcracker as a king, soldier or policeman as these were the authority figures of the 18th and 19th centuries. These authority figures were feared by citizens during this time. The nutcrackers, with their humorous and whimsical expressions, gave people the chance to express criticism of authority figures without risking consequences. The first nutcracker from Erzgebirge was crafted in 1865 by the Fuechtner family. There were more than 120 individual procedures necessary to create that first nutcracker. He was a king wearing a uniform of bright colors and filigreed ornaments and a crown that resembled a miner's hat. Rabbit's fur was used for his hair and beard and dough was used for his feet and eyes. Some early versions of nutcrackers like this one can be seen in museums around the Erzgebirge region. The Fuechtner family still produces nutcrackers in small numbers today and the procedure for each is very similar to that first nutcracker king. Many of the more modernized Erzgebirge nutcracker manufacturers now use specific machines to help in speeding up the process, although some tradition is still upheld in the making of each nutcracker and great attention is paid to the individual details of each.
Manufacturers such as Steinbach Volkskunst and Christian Ulbricht produce nutcrackers that are lively and whimsical and make beautiful additions to home décor for collectors from all over the world. To keep their popularity intact, these manufacturers craft new designs each year. Many go far beyond the whimsical authority figure nutcrackers from the earlier years. Now nutcrackers come in many versions such as US Presidents, Popes, Civil War heroes, Albert Einstein and other historical figures as well as fairy tale characters. To make the nutcrackers even more attractive to collectors, certain manufacturers offer limited editions of specific pieces that ensure the increase for price and demand. Other manufacturers such as KWO Olbernhau, Seiffener Volkskunst and Richard Glasser also produce traditionally designed nutcrackers that ensure collectors from all over the world have many choices in the pieces that they add to their collections. The popularity of nutcrackers is in part due to their whimsical and interesting design. Another reason that the Erzgebirge nutcrackers have become so popular is that in 1949, after the German Democratic Republic was founded and operated from West Germany, many manufacturers left the Erzgebirge region. When the iron curtain was dispelled in 1990, Germany was reunited and those who left the region returned, having new plants in Erzgebirge as well as the plants that they operated while out of the region.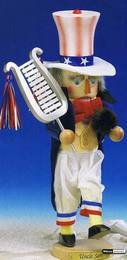 The Nutcracker Suite is a popular ballet that reflects on the nutcracker soldier. The fairy tale "The Nutcracker and the Mouse King" by E.T.A. Hoffmann was the inspiration for the ballet by Tchaikovsky and first premiered in 1892 in Russia. Since that time nutcrackers have increased in popularity. Believed to ward off evil, nutcrackers can be found in practically every home in the world during the Christmas holiday period and many collectors display them proudly all year long.