Seiffener Volkskunst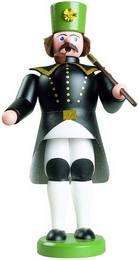 In 1958 in Seiffen, Germany, Seiffener Volkskunst was founded by several local craftsmen. For the last 50 years Seiffener Volkskunst has been producing high quality German Erzgebirge collectibles. Seiffener Volkskunst incense smokers and nutcrackers have the traditional design that has made the Erzgebirge region famous. With tradition and quality built into each piece, all collectibles from the Seiffener Volkskunst collection are beautiful and elegantly designed. The nutcrackers bear the same traditional look and design as those of the earlier Erzgebirge products and the techniques and methods used to make them resemble the same working processes that have been used to create German Erzgebirge products for centuries. The quality of Seiffener Volkskunst products are exactly what customers would expect from the Erzgebirge area.
German Erzgebirge products are highly popular and for good reason. Besides the beautiful and sometimes whimsical incense smokers or burners, the nutcrackers and carved animals of Seiffener Volkskunst have won several design awards from Erzgebirge.
The company opens its workshops to the public and welcomes tourists to visit and see the process in which these lovely items are made. From woodcarving to ring and wood turnings, visitors can view the pieces from start to finish, giving a good look into the traditional methods used to create quality Germany Erzgebirge products.