Richard Glässer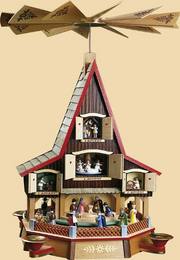 Richard Glasser or Erzgebirgische Volkskunst Richard Glasser GmbH is located in Seiffen, Germany and has been in operation for more than 70 years. Richard Glaesser began in 1932 as an independent distributor of coffee, tea, alcohol and tobacco and in 1934, added wooden figurines to his sales assortment. Because of his great success in peddling wooden figurines, he eventually built his own manufacturing company in 1940. During World War II, Glasser offered a wide selection of chests, boxes and buttons, but after the war was over he spent his time concentrating on traditionally designed and created German Christmas items.
Richard Glässer had an eye for detail and from the very beginning he paid strict attention to every detail of his wooden figurines. He ensured that each had a very friendly appearance and were created with the utmost quality in mind. He also ensured that they remained affordable. Today Richard Glaesser employs approximately 130 people who all work to see that his original goals are met.
Richard Glasser traditionally produced wood turned figurines and ornaments. Nativity figures from the Christmas Story, fairy tale characters and wooden angels and miners were the forefront for the Richard Glässer line. Many of the wooden figurines were sold separately while others were used on candle holders or on his famous Christmas pyramids.
These items are still highly popular today. Richard Glasser in Seiffen is one of the most popular and significant manufacturers in Germany and has a selection of more than 800 different and unique items. The Christmas pyramids are possibly the most famous pyramids from the German Erzgebirge region. Richard Glässer Company offers approximately 200 unique and different versions of the Christmas pyramids and advent houses. The larger, five tiered pyramids have become very popular and have collectors from all over the world.
Although the Christmas pyramids are the most well known Glaesser product, the wonderful nutcrackers, incense smokers or smoker men, Schwibbogen or candle arches and wooden music boxes are also very popular with collectors from around the world. The famous Glaser nativity scenes are made with the highest quality and depict the Christmas scene in a beautiful way that is hard to imagine. These nativity scenes are viewed with awe from all who see them.
The creations that Richard Glässer produces are influenced by the traditional customs of the Erzgebirge miners and ancient German Christmas traditions. The workshops use traditional methods and centuries old designs to create wooden figures that have collectors all over the world anticipating the next piece.